Why You Should Use a Process Server for Evictions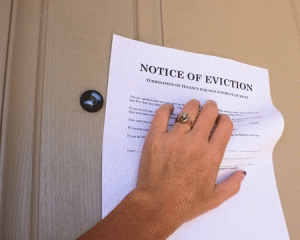 No doubt about it, evictions are messy. No one wants to get kicked out of their home or place of business, but neither does anyone really ever want to kick someone out. However, it is sometimes necessary. Failure to pay rent is a common reason, but engaging in criminal activity, housing unauthorized tenants, and other reasons can also cause a tenant to be evicted.
Evictions are also difficult for landlords because they must occur in a specific order to be lawful. Not adhering to this chain of events can lead to devastating financial consequences for the landlord. This is why we never recommend that landlords handle delivering their own eviction notices…trust this vital part of the eviction process to a reputable process server instead.
Private process servers offer the following benefits for eviction proceedings:
Get the Proof You Need for Court
Private process servers provide proof of proper service for eviction notices and eviction lawsuit process that is accepted by Florida courts. By attesting that all documents were delivered on time, and to the correct persons, process servers act as a witness of sorts for landlords pursuing evictions. Without this evidence, tenants can claim that they never received notice of the eviction, which can cause major delays.
By using a private process server to deliver the tenancy termination notice, there is a third-party witness affirming that the tenant did, in fact, receive the required notice, adding credibility to the landlord's case.
Never Miss a Deadline
As we mentioned above, evictions must occur in a specific order. They must also occur on a specific timeline. Depending on the cause of the eviction, a three-day or seven-day notice must be given to the tenants. After this notice is given and the requisite amount of time has passed, an eviction lawsuit may be filed, and that process will need to be served on the tenant.
A private process server will ensure that your notices and process make it to their intended recipient(s) in a timely fashion. Missing deadlines during an eviction can cause major delays, so don't risk doing it yourself.
Skip the Drama
Any landlord that has evicted a tenant knows how tense these situations can be. Evictions are uncomfortable at best, but can turn violent at worst. A process server can act as a buffer between you, the landlord, and the tenant(s) you are evicting. By claiming "Don't shoot the messenger", the process server can usually deliver the paperwork without having to go through all the arguing and drama.
Use a Process Server for Sarasota Evictions
If you need to evict a tenant and don't want to handle delivering the notifications yourself, we can help. Accurate Serve in Sarasota and Bradenton can handle all your eviction notices and lawsuit process if the eviction case ends up in court. Call us at (941) 586-7897 or send us a work request online to get started today.